Hunts in Mexico
Hunting Experiences in Mexico
Looking to hunt in the beautiful deserts of Mexico? Look no further. Our Mexico hunts offer a wide variety of species, such as Coues Whitetail, Gould's Turkey, Mule Deer, and more. Don't miss out on the experience to hunt in the unique landscape that Mexico has to offer.
Hunt Coues Whitetail in Mexico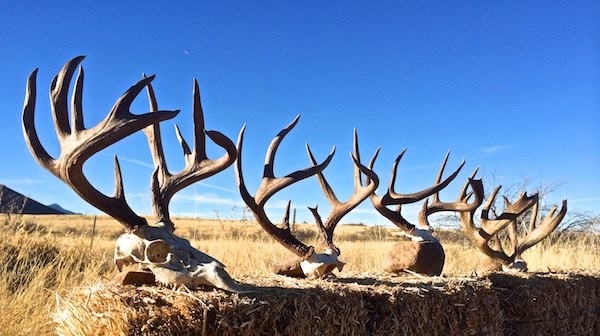 We have been outfitting Coues Whitetail Hunts in Mexico for over 15 years and is experienced in the field of Trophy Whitetail Hunting, by employing ethical, hardworking guides to assist in making your hunt a real success. During past seasons, our hunters have taken some great bucks, making ever lasting memories. Each year we hunt several ranches, all of which have old age class and Trophy Quality Bucks' We focus on the quality of our hunts, and the bucks our hunters take. It is not our interest to see how many hunters we can book, or the number of deer we take each year. This will provide you with the information required to prepare you for your Coues Whitetail Deer hunt in Mexico. Hunters will be hunting on private ranches in either Sonora or Chihuahua, Mexico. We hold exclusive hunting rights on the ranches and manages the deer harvest to provide trophy quality bucks, year after year.
What to expect on your hunt:
Due to the limited annual harvest, you can expect to see high scoring; older age class bucks in excess of 100". During the hunts, 4-5 hunters/trip will hunt for 5.5 days on the ranch (exceptions and or variations will be considered or suggested). Each day (2) hunters will travel with a guide from the ranch house by foot, vehicle, or ATV's to the hunting areas where they will hunt all day before returning after sundown. These are the hunting methods employed on our hunts, or a combination of them as roads may be limited in certain areas of the ranches. Hunters may occasionally hunt in pairs with guides on a 1 on 1 hunt. As the hunt progresses, the hunter and guides may occasionally split up while glassing or making stalks while maintaining communication via radios. Hunters are taken to glassing points and areas of known deer activity, or previously scouted bucks where we glass for the right buck and plan stalks. This is your hunt and we will do what it takes to best accommodate you and make necessary adjustments to improve your success and insure an enjoyable hunt. Each hunter will be asked to identify any physical limitations, medical conditions, and prior hunting experience. Physical limitations and shooting abilities may affect the success of the hunt. All ranches reflect similar hunting arrangements and accommodations, with varying deer densities from ranch to ranch. The terrain is mountainous, steep and rugged in many areas; however each ranch has areas that are easily accessible via ATV's or 4x4 vehicles.
Accommodations:
Meals: Hunters stay in comfortable ranch houses with electricity, hot water, showers, and bedrooms equipped with either beds or bunk beds. All food and drinks (except alcohol) will be provided on our Premium Guided Hunt, and a camp cook will prepare breakfast, lunch, and dinner for the hunters and guides on all hunts. Meals such as steak, chicken, tacos, hamburgers, pork loin, bacon, sausage, ham, eggs, beans, and tortillas with all the fixins' will be served as well as snacks during the day. During the course of the week, fruit pies, Dutch oven peach or apple cobbler, and ice cream will be enjoyed adding a finishing touch. The ranch cook adds the right amount of culture to the menu without making it to spicy to enjoy.
Other Hunts Available:
Trophy Archery /Muzzleloader Coues Whitetail Hunts We also manage two ranches in Chihuahua, Mexico for archery hunting opportunities. These ranches are located in upper oak woodland/conifer forest habitat with well over 50,000 acres of accessible mountainous terrain. These hunts will be conducted in the same manner as our rifle hunts with exception to the hunting methods. Blinds will be placed in strategic locations of documented deer activity. Hunters will be given the option of hunting from blinds, tree stand, still hunting, or spot and stalk as the ranches offers all hunting options. Trail cameras have been placed in several locations on bait sites for hunting purposes and to document the bucks to target annually. During this time, we have documented exceptional trophy quality on the two ranches in preparation for a successful archery or muzzleloader hunting opportunity for the most challenging deer species to take with either method of take! These hunts will take place during the pre-rut timeframe of the season and will target specific areas that trophy bucks are occupying. Harvest will be limited annually to 8 bucks per season on each ranch to offer, sustain and target 90" of better quality regardless of weapon type. The hunts will be limited to 4 or 5 hunters per trip pending the ranch for a total of 5.5 days of hunting in the field. American guide and ranch guides will assist hunters to the selected area to hunt. The guides will glass and check additional areas/cameras and scout after taking hunters to the blinds/stands. Hunters and guides will maintain communication via radio.
Hunting for Gould's Turkey in Mexico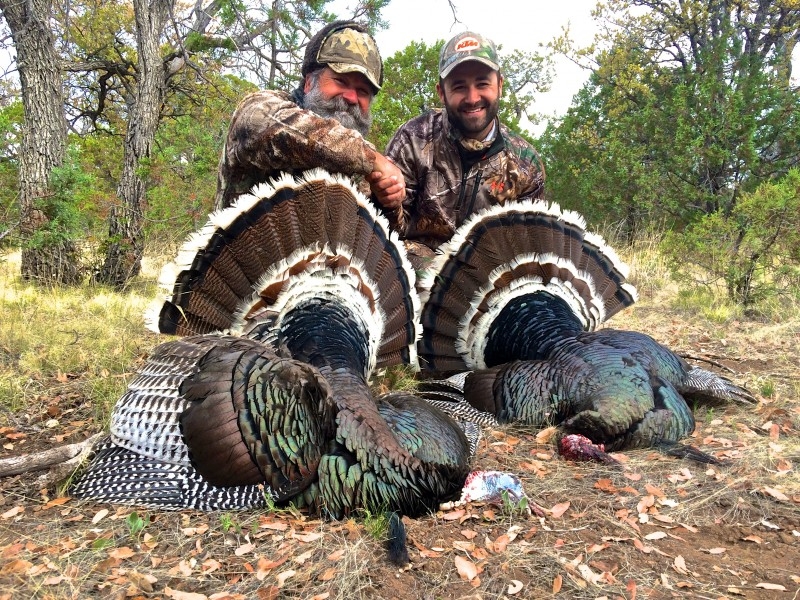 The arid southwest is home to dense populations of Gould's turkeys, with the highest densities found in the higher elevations of the Sierra Madre Mountains of Chihuahua, Mexico where the oak woodlands transition into mixed conifer forests. This is where we conduct hunts for Gould's Turkey with high success, resulting in a great trophy, exciting hunt, and a lasting cultural experience.
Our Gould's Turkey Hunts are on previously un-hunted, remote private ranches. We have exclusive hunting rights on approximately 60,000 acres comprised of high mountain mesas and long ridges bisected by wet canyons with elevations varying from 6000' in the Oak Woodlands to over 8000 feet in mixed conifer forest, where the diversity of vegetation offers excellent turkey habitat throughout the terrain, resulting in a lot of birds! Also, located on the ranches are extensive road systems accessing areas we hunt and comfortable ranch houses making the hunting and camping conditions comfortable and enjoyable.
There are NO TENT CAMPS on our hunts! We employ ethical hard working guides that have previous experience on the ranches, in addition, local ranch guides who assist us and are very important and complement the team well. The Owner/Outfitter has dedicated his professional career to wildlife management and game protection. We manage the harvest on each ranch and place game feeders strategically to supplement and sustain the birds while insuring a good hunt-able turkey population for our clients. We pay special attention to this and go the extra mile for you. This is how we manage the ranches and conduct our hunts and the results are 100% opportunity if not 100% success that is what we are striving to maintain, so get ready for an exciting hunt!
Hunt Dates/Accommodations: We begin hunting in mid-April and run through the second week of May to concentrate our efforts during the heart of the season. We conduct two hunts on each ranch during this timeframe. Our hunts include 3.5 days of hunting and 5 days' total with 5-6 hunters per camp depending on the Ranch. Hunters will stay in comfortable ranch houses with electricity, hot showers and bedrooms and beds. All food and drinks (except alcohol) is provided, along with ATV's, 4x4 vehicles, shotguns, ammunition and guides. We reserve areas on each ranch, so each group of hunters will hunt previously un-hunted areas. This is yet another way we assure hunters will have a great hunt.
Hunt for Desert Mule Deer in Mexico
Headquartered in Hermosillo, Sonora, Mexico. We offer trophy hunts for Desert Mule Deer and Coues Whitetail Deer. For anyone not familiar with Desert Mule Deer in Old Mexico, they have horn growth potential that rivals or exceeds anywhere else you can go. One of the oldest and most respected outfitters in Mexico, has been in business for 16 years.
We have exclusive hunting leases in the Sonoran Desert on over 300,000 acres, more than 20 private ranches, that we manage for Trophy Mule Deer and Coues Whitetail. We work with ranch owners, improving both feed and water sources. We carefully limit the number of animals taken each season off each ranch in order to sustain maximum trophy potential. In past years our average gross score has been 188″ + for Mule Deer and over 100″ for Coues Deer. Over 60% of our clients are repeat customers each year. We offer hunts from mid-December through January. This includes pre-rut all the way through the heart of the rut in mid-January. We take 2 to 4 hunters per camp depending on ranch size and quality of habitat. We also offer hunts for bigger groups out of one larger camp that has 5 different ranches available in close proximity. Our hunts are for 6 days of hunting, flying into Hermosillo the day before and out the day after. Hunters are met at the airport, assisted through customs, and taken to their hunting destination. We take care of all paperwork necessary to get through customs, including gun permits.
ACCOMMODATIONS: The camps are very clean ranch houses with comfortable rooms, hot water, showers, and fully functioning toilets. Excellent meals, both Mexican and American, are prepared by professional chefs. An open bar is available.
THE HUNT: Each hunter has their own guide and driver for the hunt. These people are truly the key to our success and most if not all have been with us for a number of years and are highly professional and skilled. Their eyesight and trophy judging ability are second to none. We are very proud of our guides and drivers and offer the assurance that they will hunt hard to help you take the animal you came for. Hunting tactics include covering a lot of ground in high rack 4X4 pickups on the seemingly endless ranch roads, spotting and stalking, and tracking. Our guides and drivers spend at least 4 days prior to the season on the ranches they will be guiding in order to pre-scout and locate animals. The majority of our hunters come to kill a trophy Mule Deer. If successful during the hunt they then have the option of hunting a Coues Deer, only having to pay upon being successful. One note: Our wounding policy is if you wound a Deer, that Deer becomes yours. You can look for the Deer for the duration of the hunt but not take another one. Capes and horns are expertly prepared to be taken through US Customs and home with the hunter. Our hunts are all-inclusive from arrival to departure, no hidden costs.
THE CLIMATE: Mexico is a great place to be in December and January … warm days and cool nights, hunting that is not physically demanding, and hard-working, friendly people who do everything possible to make your hunt enjoyable, successful, and memorable. Please consider joining us!
PRICING: A deposit of 50% of the cost of your hunt is required to confirm your reservation. The remaining 50% is due 30 days prior to your arrival. Your deposit is non-refundable upon cancellation, but if you cancel more than 60 days prior to your hunt, you may be able to choose a different date subject to availability.