African Hunting Experiences
Every true hunter need to take a trip to the Dark Continent at least once in their lifetime, and I'd be willing to bet that once you have experienced its beauty and abundant wildlife once… you will want to return again and again. There is just an incredible amount of hunting opportunity in such varied terrain in multiple regions that it would be impossible to experience it all in a lifetime of hunting. You might as well get started though! It doesn't matter if you want to start off stalking the nasty Dugga Boys of the Masailand in Tanzania, or hop into the more exotic lands of the Cameroon rainforest in search of Bongo, we have the connections with the best Professional Hunters on the continent to make your dream hunt come true!
Pay attention as our African outfitters describe their hunts!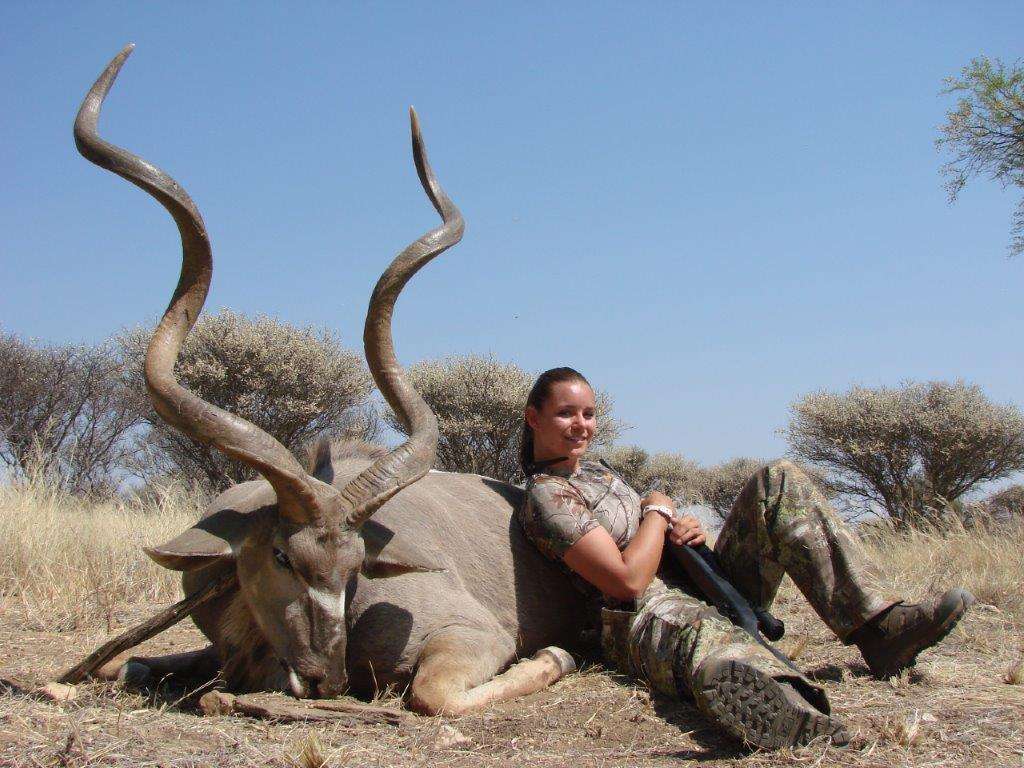 Your hosts grew up here and have developed their huge property as a truly sustainable wildlife refuge. The Ranch is a Mecca for Namibia's free ranging game and their love and respect for the wild is echoed in their twin boys. The luxurious ranch buildings and infrastructure are yours to enjoy while you you stay. Surrounded by vast expanses of of wild Namibia unchanged for thousands of years, you will at first stand transfixed and then want to get to exploring the wilderness around you. The whole hunting experience from learning to feel the wind, read tracks, and ultimately choosing the trophy that you have always wanted will leave nothing wanting.
For most of the clients, first stop is Hosea Kutako International Airport where you will be met by your hosts. Then on to Windhoek, where you can do some brief last minute shopping before heading southwards about 50 minutes to the ranch. Luxury accomodations await you as well as a nice swimming pool for cooling down and relaxing in. Most of the time a large lake sits right outside your doorstep attracting all kinds of wildlife for you to enjoy.
Some of the more common species hunted on the property are fantastic Kudu, Oryx, Hartmann Zebra, Black and Blue Wildebeest, Red Hartebeest, Warthog, Springbuck, Blesbok Duiker...and some phenomenal Leopards as only one of them is hunted a year!
Many other species of plains game including Sable, Eland, Impala, Black Gnu, Waterbuck, Nyala, Roan, Burchell's Zebra can be had by taking a drive to one of the neighboring properties that they work closely with.
Mozambique: Classic Safari Style Hunting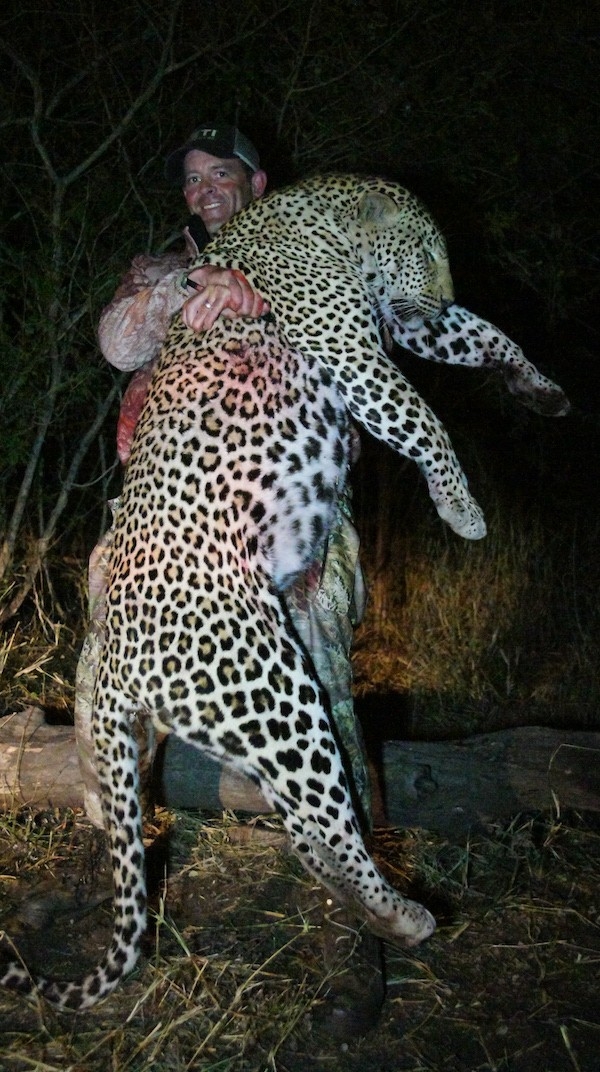 A classic safari with first class safari camps, highly experienced guides and staff and quality hunting experiences will ensure you an adventure to write home about. We are obsessed with great service. Our personal attention with emphasis on detail has become somewhat of hallmark envied by many outfitters in an increasingly competitive industry.
Our experience and excellent references spanning over three generations sets us apart from other outfitters - couple that with quality trophies and our high standard in ethics and it soon becomes apparent why. Conservation and hunting are closely related and we advocate the intelligent utilization of wildlife and natural resources. Our motto "Hunters pay for conservation" is evident in everything that we do.
A classic hunting safari is only as good as the staff that makes it all happen and we take great care in ensuring that our standards exceed the best in the industry. All our professional hunters are highly experiences and undergo stringent scrutiny before they are employed. Unless an air charter is requested, one of our fully equipped hunting vehicles will take you to your camp where the rest of the team will be eagerly awaiting your arrival. From your personal chef, the waiters and cleaners, to the highly experienced trackers and skinners, all are geared towards making sure your hunting safari be the most memorable.
Now imagine dramatic Africa landscapes teaming with wildlife, stories around the campfire as the king of beast's roar can be heard in the distance, sipping on your G&T as the sun sets and enjoying the spectacular starlit skies, just as the hunters of yesteryear did.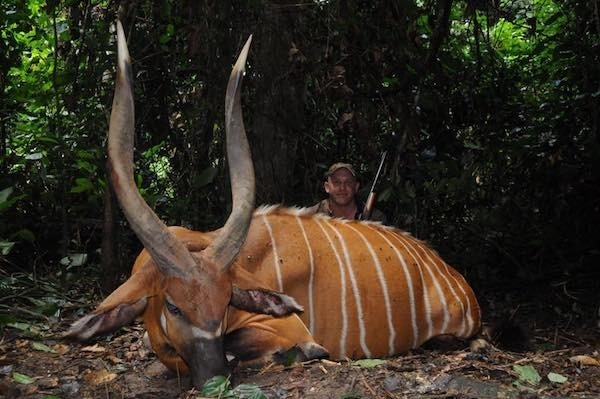 To find the most elusive and sought-after trophies in Africa, one must travel to the most wild and remote places on the Continent, far away from any type of major civilization. This means heading into the remote rainforest jungles and savannahs of Cameroon and the CAR when open to hunting. This is the home of many unique species and some of the grandest at that. Whether you are tracking the mighty Lord Derby Eland on foot track for track, or waiting out an appearance of the ghosts of the forest with the Bongo or Forest Buffalo, there is always high adventure to be had. The swamps have healthy populations of large Sitatunga and the forests is alive with many species of Duiker, including the highly coveted Yellow-Back Duiker as well as the beastly Giant Forest Hog. Mouth calling for the Duikers is fast and furious and something you will most definitely not want to miss out on. Changing from the rainforest along the waterways into the grassy Savannahs in an instant also brings the opportunity for tracking Savannah Buffalo, Roan, and Hartebeest. If wild Africa is what you want to experience, this is the destination you seek!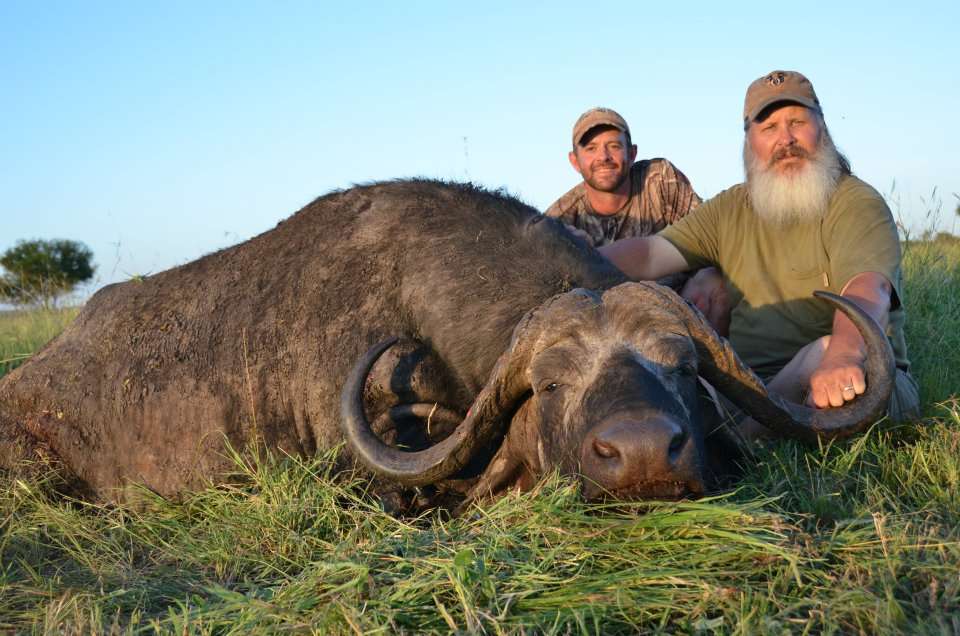 Tanzania has some of the finest hunting grounds on the African continent, where large concentrations of game can still be found. Due to the Tanzanian Government's wise policy towards it's wildlife heritage, vast portions of the country have been set aside for Game Preserves, Controlled Hunting Areas, and National Parks. We have taken a strong stand with the Wildlife Department in participating with anti-poaching activities and the education of the local villagers into the benefits of wildlife through wildlife conservation. Born and raised in Tanzania, we have over 40 years of hunting experience and a unique knowledge of this vast land.
Let us organize your adventure of a lifetime. Ruark, Hemingway, and Roosevelt have done it and written about it, and you can do it too! We offer you a hunt in the classic East African tradition. Our picturesque camps are very comfortable and equipped with a spacious mess tent, insect and snake-proof sleeping tents with toilets and hot showers, fridges and freezers to keep food fresh and a plentiful supply of ice for your drinks.
The cuisine is of the highest standard and all palates are catered for utilizing the game meat and birds combined with seafoods, fresh fruit and vegetables flown in regularly. You will be looked after handsomely by our friendly staff including cooks, mess stewards, waiters, porters, drivers, mechanics, gunbearers, trackers, and skinners. There is radio communication daily with Dar es Salaam. Our team of Professional Hunters are very experienced and highly qualified, each equipped with a four-wheel drive vehicle.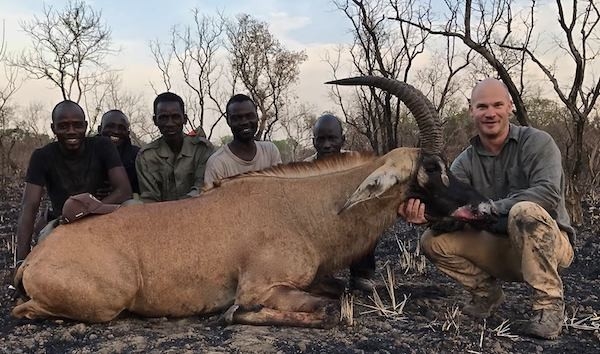 After growing in Africa, the PH been guiding over the last 15 years as a PH in 11 African countries such as Cameroon - CAR - Tanzania – South Africa - Zimbabwe... But I never found such a high concentration of game free-range as in Burkina!
Hunting in those conditions is a real pleasure and a good opportunity for me to keep busy. My objective there for the time being is to cover my costs. Several companies in Burkina are operating mainly with French clients, selling "cheap" safaris. They are well known for overbooking! These crooks have given a bad image of safaris in this country. Sad, especially when you know how good are some of their territories.
Over time, I managed to find one operator running a good and reliable company. Hunting there is conducted under very strict rules and the first one is not to shoot in a herd but only isolated good old bulls. Even with that, 80% of the buffaloes are usually shot the first day of the safari! Where else is that possible?
The area is 60 km from the Benin border, East of Burkina. The 80,000 free range hectares are surrounded by other hunting blocks and by Arly National Park. A piece of paradise where the game is not to shoot the first possible animals but to wait for big trophies! Informed customers are coming years after years so quotas are booked long in advance.
Most famous species available are western savannah buffalo and western roan but collectors are always looking for nagor reedbuck - harnassed bushbuck -… The whole quota is divided into packages: a 8 hunting days and a 10 hunting days package. Both include one Western savannah buffalo and one western roan. Then you can choose other trophies in the following list:
Nagor reedbuck
Harnessed bushbuck
Western Kob
Western hartebeest (only for a 10 days p.)
Defassa waterbuck
Oribi
Western bushduiker
Warthog
Over the last 8 years, we never got a client coming back home without all his dreams. No more than 3 hunting teams (3 cars) at a time as we don't want to disturb the area and the hunts. Trackers and all staff are phenomenal, camp is ok with aircon and fully equipped individual rooms.
Food (French cuisine style) is ok with plenty to eat - cars are old Toyota but engines are totally rebuilt every second year. We have network accessible all over the area in case of problem and to keep in touch with camp.
The best period is December - January - February because of comfortable temperatures (70 - 90°F). I will personally welcome you at the airport and drop there on your departure day.
3 main companies are delivering Ouagadougou the capital:
Air France - Brussel Airline - Turkish Airways.