Colorado Hunts
Escape to the beautiful mountains or plains for a once in a lifetime hunting experience in Colorful Colorado! Whether your looking to hunt Elk, Deer, Mule Deer, Antelope, Bear, or Mountain Lion...hunting in the Colorado wilderness is an adventure you won't soon forget. In the word's of our Outfitters, here are a few of the adventures they provide.
Eastern Colorado Antelope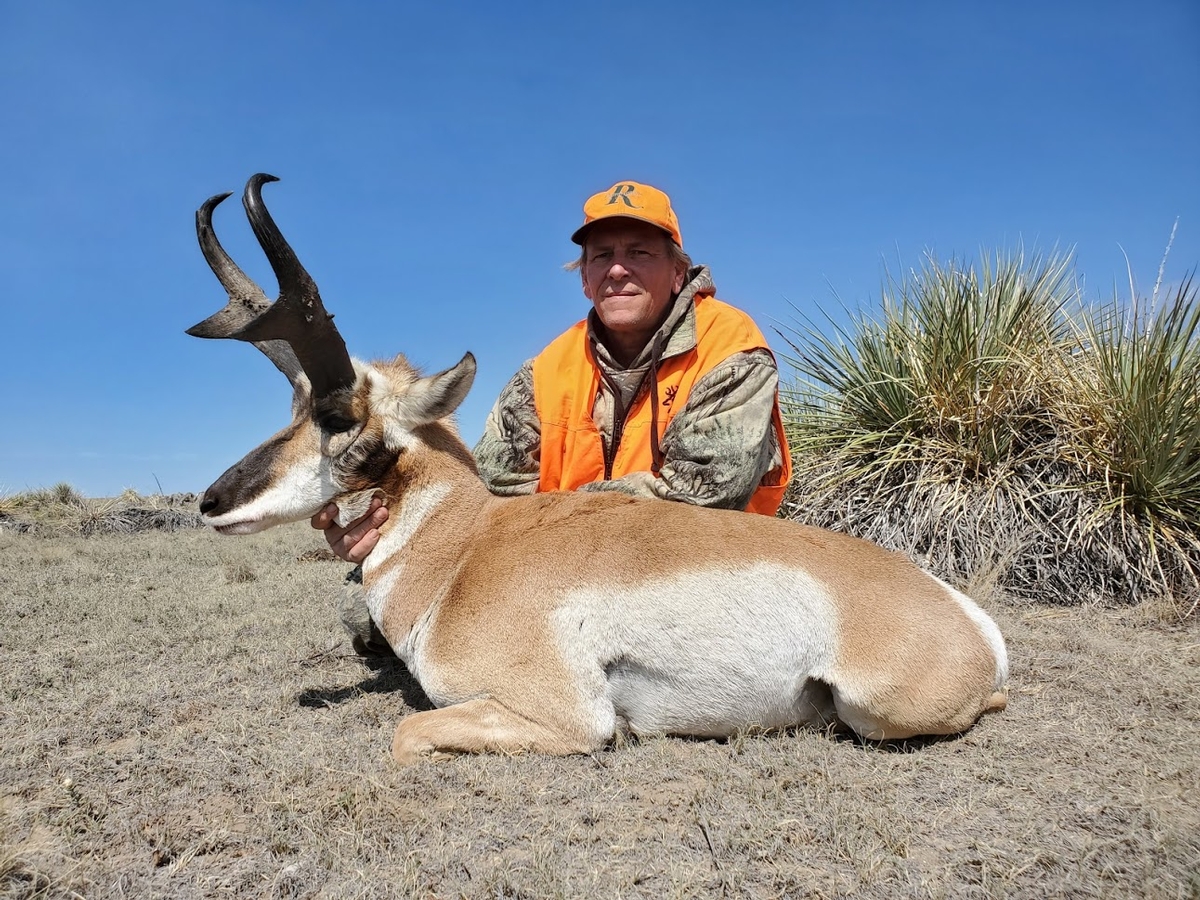 The plains of Eastern Colorado are home to high populations of Pronghorn Antelope.These hunts are conducted on 17,000 acres of private property leased exclusively for you. Hunters can expect to harvest quality goats in the 72-80 inch B&C range with some occasionally breaking that 80 inch mark.
During the rifle season, normally the first 10 days in October, we cover a lot of ground in a vehicle spotting and analyzing trophy quality with the aid of good quality optics. Once a goat to our liking is found, spot and stalk tactics are used to get within range for a shot. Shots can average from 250 yards on out to 400 yards so a flat shooting rifle with a high powered scope are a must. These hunts are by drawing only at this point and will require at least 1 preference point in order to draw, so make sure you start applying for preference points in Colorado now!
Archery hunts are primarily groundblind hunts over water holes from August 15th-Sept 20. In September we start to incorporate decoying along with spot and stalk tactics to target the rutting Pronghorn bucks, making for some very exciting action! All hunts are scheduled for 3 days and include food and lodging, license is separate and can be purchased online or over the counter for the archery hunters.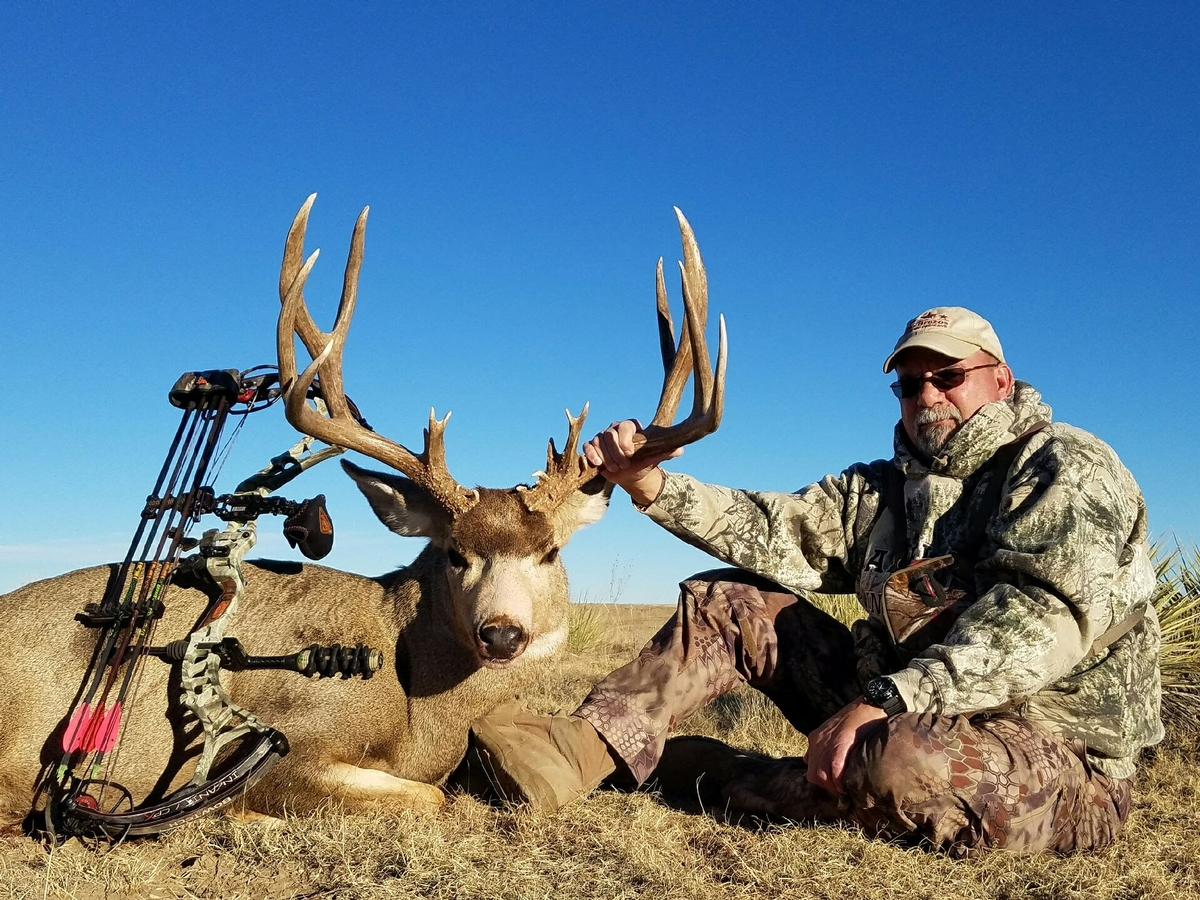 Eastern Colorado is well known for producing magnum sized Mule Deer and we happen have a premium slice of that pie. Our goal is to consistently help our hunters harvest mature bucks in the 170-200 inch plus B&C category, and in order to do that we take a very limited number of hunters each year for either archery, muzzleloader, or rifle hunts. Archery season opens up the 1st of October and runs through the end of December except when the rifle season tis open the Last week in October and beginning few days of November. Muzzleloader season is usually set for the second week of October.
These are spot and stalk hunts on 17,000 contiguous acres of private property for 170-200 inch type deer with very high success rates… It will take at least one preference point to draw so make sure that if you Ever wish to hunt in Eastern Colorado that you begin applying for preference points now!. Rifle hunts are five days of hunting with food and lodging provided from the nearest town with hotels and restaurants. Archery and muzzleloader hunts last for 6 full days of hunting and also include food and lodging.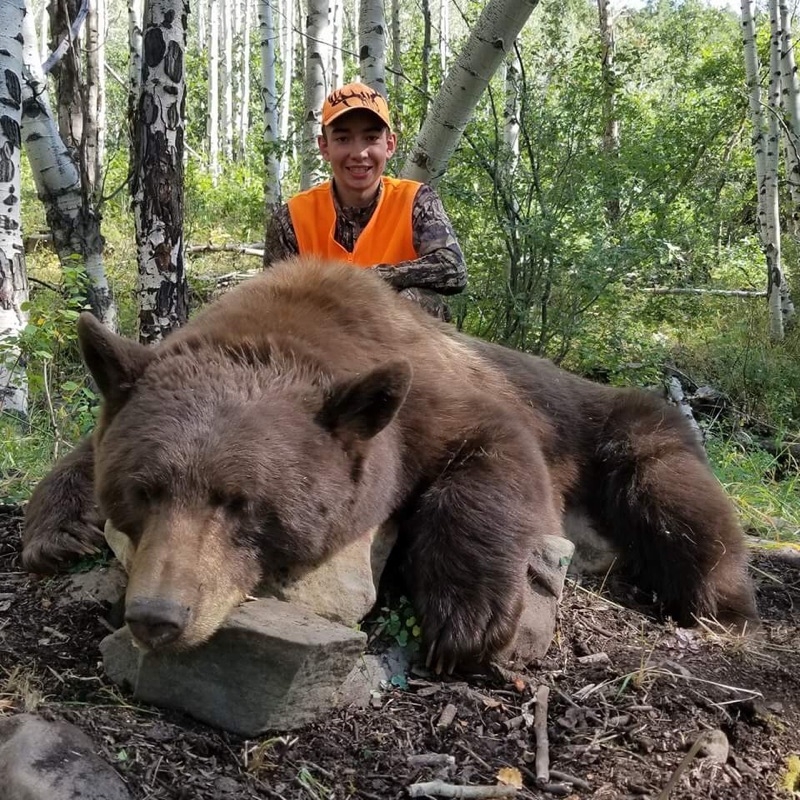 Our Colorado bear hunts are conducted using spot and stalk methods. It is no question that Colorado has one of the largest black bear populations in the lower 48 states. It is normal to see several bears during a week's hunt. We use well selected glassing knobs and quality optics to locate your bear. We then put on a stalk and get as close as possible. Greatest success comes to hunters comfortable shooting up to 400 yards. This hunt can also be done with a bow where we pick high bear traffic areas and use calls to bring them in to shooting distance. Sitting over an active waterhole in early afternoon is also a very successful way to archery hunt them. It is recommended using a rifle for the highest chance of harvesting a large boar. In 2016 we took our first spot n stalk hunter and had opportunities on several bears before choosing the boar we harvested.
We offer these hunts in two different units as well as on a private ranch with guaranteed tags.
Hunt Colorado Mountain Lions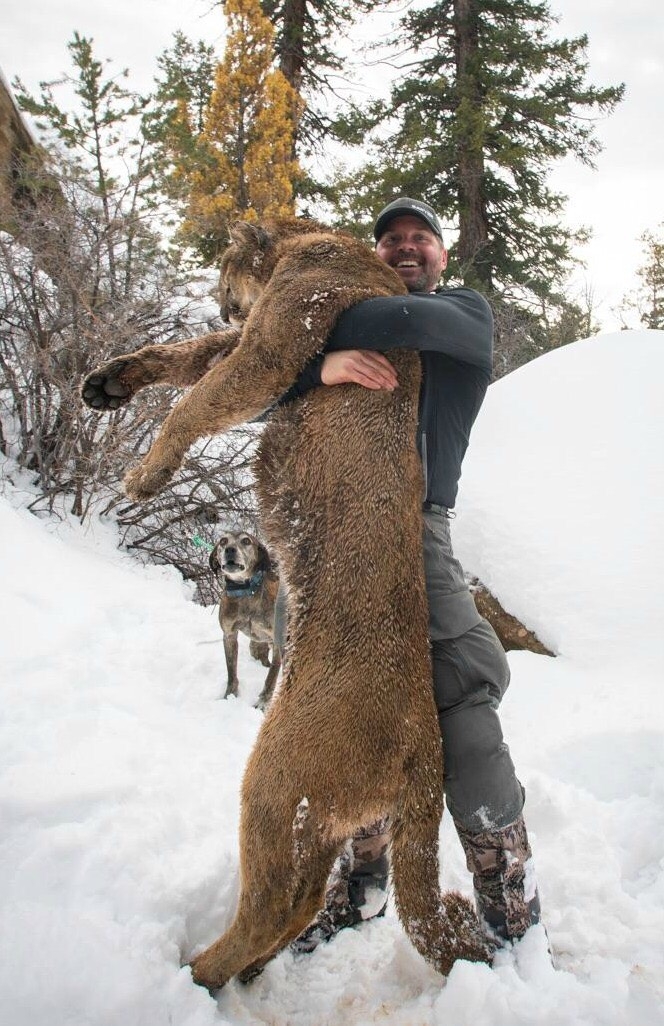 Join our houndsman and his pack of lion hounds. Six months out of the year you will find him roaming western Colorado and eastern Utah. Searching for the giant toms this country has to offer. We pride ourselves in being a top-notch outfitter. We promise you won't find an outfitter that takes cougar hunting more serious than we do. Our life is dedicated to lion/cougar hunting. We breed and train our own strain of lion hounds that are second to none. This gives us the ability to catch cats anytime, anyplace, in any condition. Top that off with a huge permitted hunting area containing one of the highest cougar populations in the lower 48 states. Covering 7 game management areas in Colorado as well as a large portion of eastern Utah. All of this makes us the perfect choice to assist you on a guided cougar hunt. There is no bigger rush than being up close and personal with a large cat. We offer two kinds of cat hunting experiences (winter & spring) to fulfill all your cat killing desires. Being fortunate enough to live on the border of two great states. We require clients to purchase a Colorado and Utah lion license.
Once you harvest your first cat you will be given the opportunity to harvest a second cat with your remaining tag. Snowy winter months leave us with the perfect conditions for harvesting cougars. We pride ourselves in a very high success rate on mature cougars. This hunt is conducted with trucks, snowmobiles, and other off highway vehicles. We start our days very early driving roads looking for cougar tracks. Once we have a track located, we release hounds and catch your cat. Using GPS technology, we track the hounds and precisely locate where they treed your cat. We then determine the easiest route to take you into your trophy. Lodging is based out of our home, you will have private accommodations including a bed, bath, and living room. Home cooked meals will be provided before and after each day of hunting. A cooler full of lunch food and drinks will come with us everywhere we go. Due to the large size of our hunting area possibilities exist we may stay in a remote mountain cabin or a convenient motel close to where we are hunting
South Central Colorado Elk and Mule Deer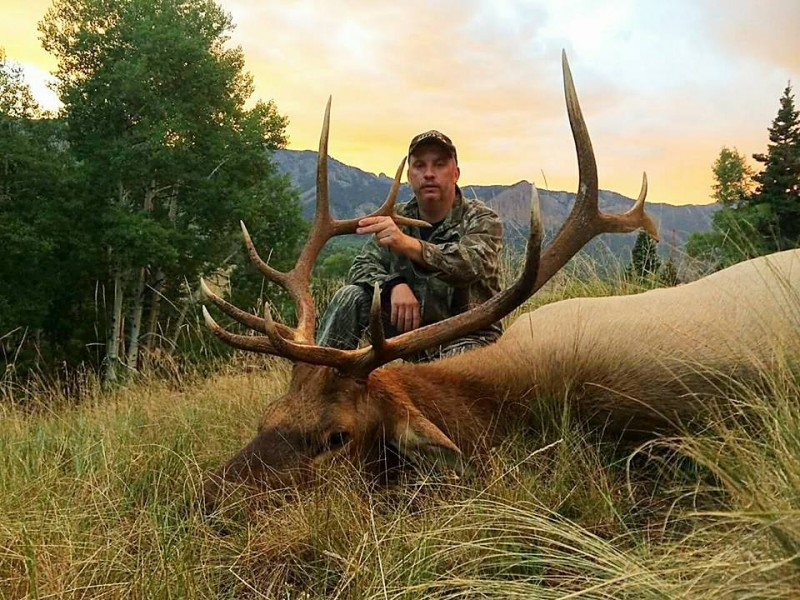 At these Colorado properties, we offer an uncompromising outdoor experience unrivaled in the West. We invite you to share the ranches with us for exclusive, personalized trophy elk and mule deer hunts in an epic landscape of mountains, forests, and valleys near beautiful Chromo, Colorado. For over two decades these 50,600 acres properties have been managed for improved wildlife habitat. The ranches encompass the headwaters of the Navajo River and boasts some of the premium habitat in the West for elk, mule deer and a variety of other species.
Over 50,000 contiguous acres on these amazing ranches are available to hunt. This southern Colorado ranch provides an unrivaled Colorado elk hunting experience on private ranches with an incredibly high elk density and low number of hunters. Our diverse terrain offers unrivaled opportunities for uncompromising adventure, including high country hunts as well as more relaxed lower elevation stalks. Our elk herd is part of the greater San Juan Basin herd, numbering approximately 19,000 elk, with an estimated 3,500 of who spend spring-through- fall on or around the ranches, calving in the meadows in June, summering in the high country during the summer, then descending to the mid and lower elevations in the fall for the rut. You will have the opportunity to see large numbers of rutting bulls during the archery hunting season. Then, as the first dusting of snow hits the peaks at the onset of rifle season, more elk than you can imagine begin their decent through the ranches on their way to their wintering grounds farther south.
While our focus is centered around the elk hunting, some monster Mule deer reside here. While we only take a few hunters each year we target bucks in the 180-200- inch mark. Our diverse terrain offers unrivaled opportunities for uncompromising adventure, including high country hunts as well as more relaxed lower elevation stalks.
Southern Colorado Hunting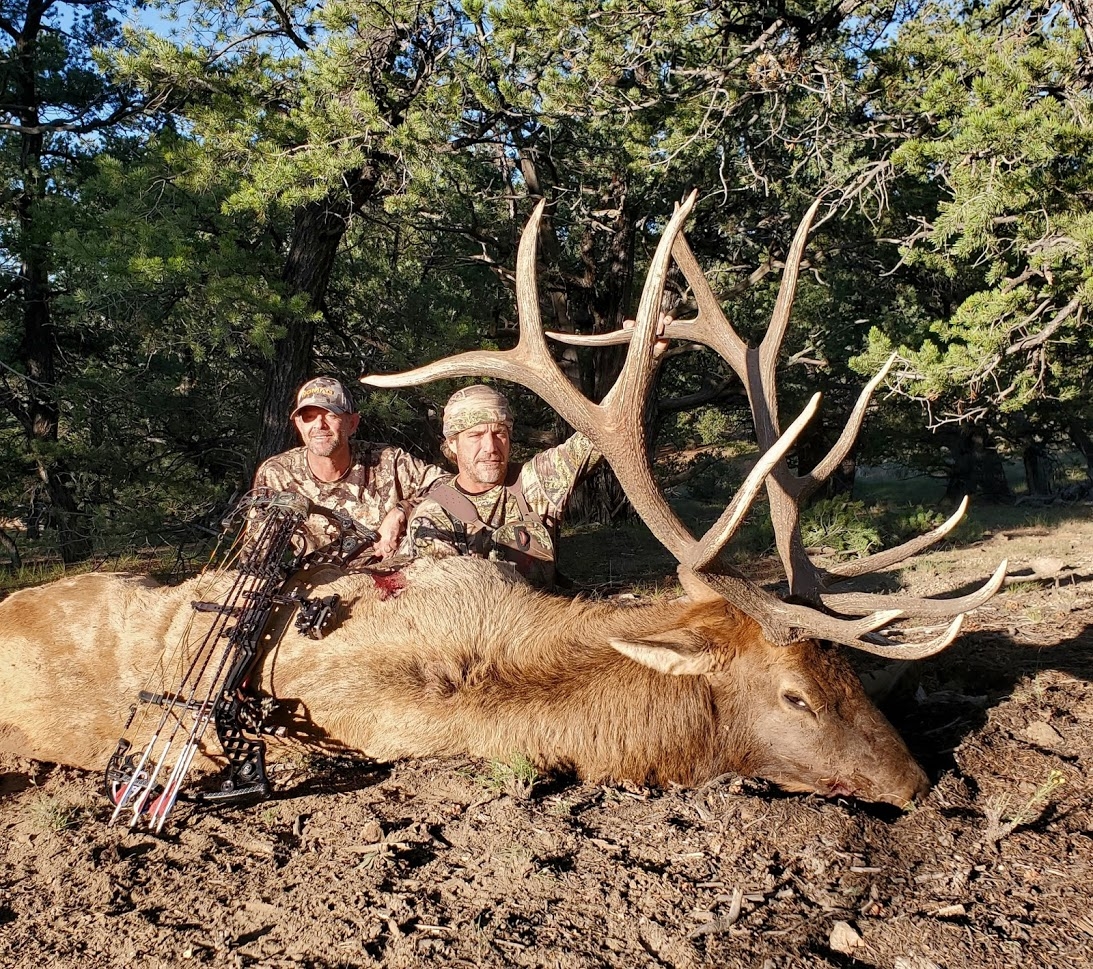 We take a maximum of 4-6 hunters in camp at one time. With several ranches to choose from, there will always be plenty of good places to hunt. These ranches have an abundance of game due to the limited number of hunters. Our professional guides have years of experience and are very courteous and knowledgeable. We are a family operation that strives hard to make each hunter's stay with us a memorable one. We have obtained exclusive hunting rights on some of the best trophy ranches that Southern Colorado has to offer. In the past five years, we have seen an increase in game numbers and size of animals harvested.
We consider all of our hunts to be truly a once in a life-time experience for all hunters. These hunts take place in Southern Colorado on our family owned ranch along with several other privately owned ranches. The terrain varies from high timbered mountains to open rolling hills, making these ranches very approachable. Our ranches hold high numbers of resident Elk with high bull to cow ratios. Combine this with years of experience & professional calling and you stand an excellent chance of taking a trophy bull. These hunts have produced around 90% shooting opportunities for the past 9 years.
ACCOMMODATIONS: All Colorado hunts include first class accommodations. A luxurious three bedroom cabin with each bedroom having its own private bathroom, it also has a full kitchen and living area with washer and dryer. All towels and linens are provided for your convenience. All meals are served family style.
COW HUNTS: We are also offering late season Cow Elk hunts in Colorado. These hunts are offered for the meat hunter, small groups, or first time hunters at a reasonable price.
APPLICATION DEADLINE: - First week of APRIL - These hunts require 1-4 points Landowner Vouchers are available